The basics of distilling spirits
Fermentation and distillation are the two processes that every spirit must go through. All alcohol is produced during fermentation and separated and extracted during distillation. For fermentation, water and sugar (which could be corn sugar or from grain after the mashing process) with the addition of yeast are necessary. Yeast is a living organism that consumes sugar, producing alcohol and carbon dioxide as a byproduct (CO2).
A liquid with sugar (derived from fermentation) is heated to produce a vapor, which is then condensed back into a liquid, a process known as distillation. The entire concept was inspired by nature: After a hot day in the sun, puddle water transforms into invisible vapor. A cool night reverses the process, causing water droplets to develop on grass blades. Our forefathers wondered if heating a liquid with fire would have the same effect. Would putting anything cold on top of a warm vapor make it turn back into a liquid? These inquiries became the origin of distillation. Condense the vapors, add some fragrant plants, and create a perfume. They found a more enjoyable option would be to make alcohol from some fermented liquid.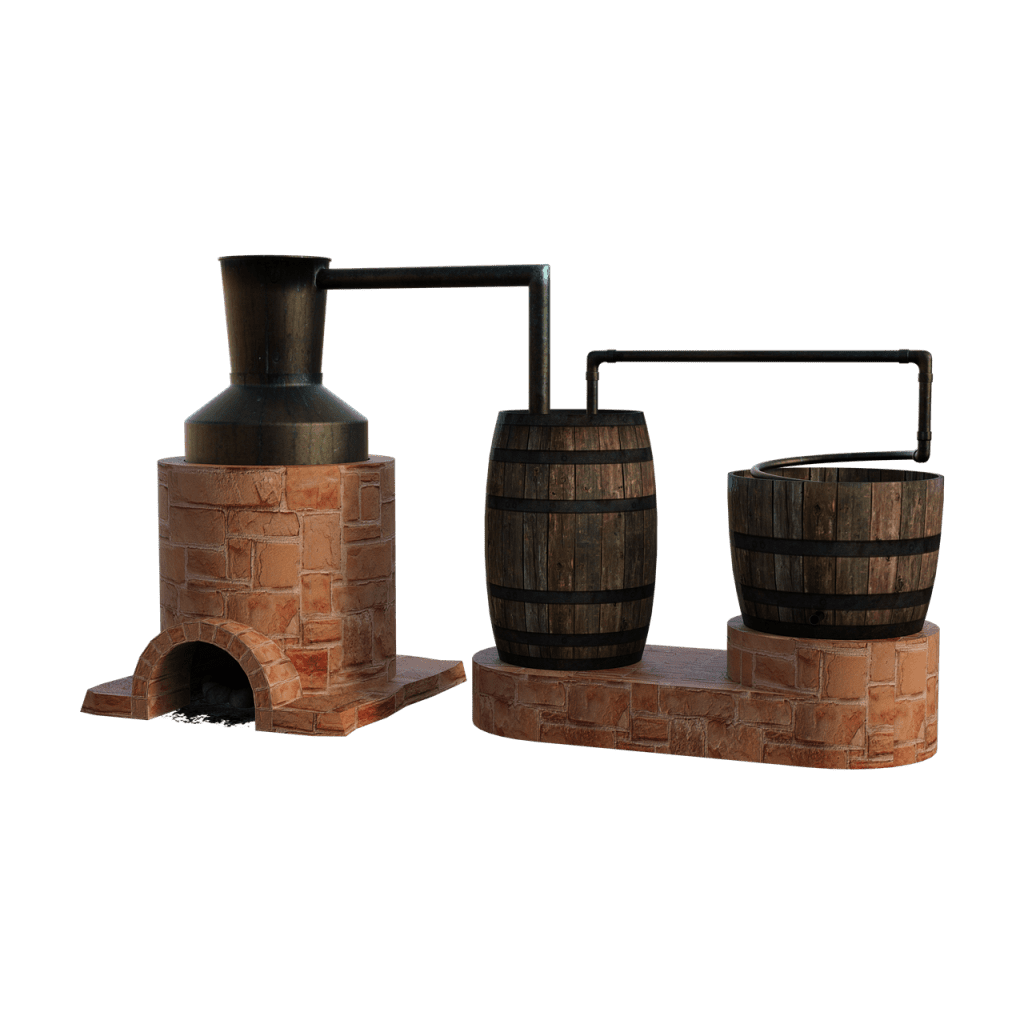 To summarize, distilling is an art that necessitates mastering a variety of variables: the choice of grains or fruits, the water used, the yeast, the temperatures used in the process, the shape of the pot still, the choice of the barrel, the time spent in the barrel (for those products which are matured), and the Master Distiller's recipe all define the particular style and final flavor of your favorite spirit drinks!
The most popular types of distilled spirits produced on Long Island
Brandy
Brandy (Normally, 40% alcohol by volume (ABV, 80 proof) is made by distilling fruit, usually grapes, although it can also be made from cherries, peaches, apples, and apricots.
It tastes like a dark, fruity wine with a lovely oakiness from being typically aged in oak and frequently combined.
Gin
Gin (Usually between 40 and 47 percent ABV (80 to 94 proof) is ideal for dry (non-sweet) cocktails like classics and martinis since it has a unique dry character. It blends well with mixers and fruits and makes a suitable base spirit for cocktails that include substances that cause a fever.
Gin is distilled from neutral grains like barley, corn, rye, and wheat and is flavored with a range of botanicals, which vary depending on the brand, but it must be made from juniper berries in order to be classified as gin.
Rum
Rum is a spirit made from sugar (the proof is 80 to 150). The sugar can be molasses, syrup, or pure cane sugar. Whatever the basis, rum always has a sweet, toasted sugar flavor characteristic. It is aged 3 to 10 years before serving.
Vodka
Vodka is a neutral spirit that has been distilled or treated with charcoal or other materials after distillation to make it lack any distinguishing characteristics, aromas, tastes, or colors. It is bottled at a minimum of 40% alcohol by volume (ABV).
Almost anything that can be fermented to produce alcohol can be used to make vodka, although the main ingredients include potatoes, sugar beet molasses, and cereal grains.
Whiskey
The various grains used to make whiskey (the proof is 80 to 140), which is a dark distilled alcohol, including barley, corn, rye, and wheat. It is distilled all over the world, with Ireland, Scotland, the United States, Canada, and Japan enjoying the highest levels of popularity. There are many different whiskey styles, and some nations have laws that specify how it must be made. Long Island distilleries are taking part in this whiskey-making tradition.
Here are some local Long Island places where you can find craft distilled spirits:
North Fork Farm Distillery (Greenport Distilling)
Greenport Distilling moved its operations to sister company One Woman Winery and became North Fork Spirits. They kept Greenport Distilling as a brand. They now offer grappa under their own brand, One Woman Grappa. Grappa is an aromatic Italian pomace brandy made from grapes. It is an alcoholic beverage with a volume alcohol content of 35 to 60 percent. After pressing the grapes to make wine, the leftover skins, pulp, seeds, and stems are distilled to create grappa.
Gabriella Purita, the creator of North Fork Spirits, was motivated by her father Frank and her paternal grandfather's appreciation of all the genuinely excellent spirits created around the world. After distilling a grappa to keep the business afloat, Gabriella developed a passion for tinkering with simple recipes to create unique and exquisite spirits. Our ingredients, which include bourbon, grappa, and amaro, come from all over New York State when they are not cultivated on our farm.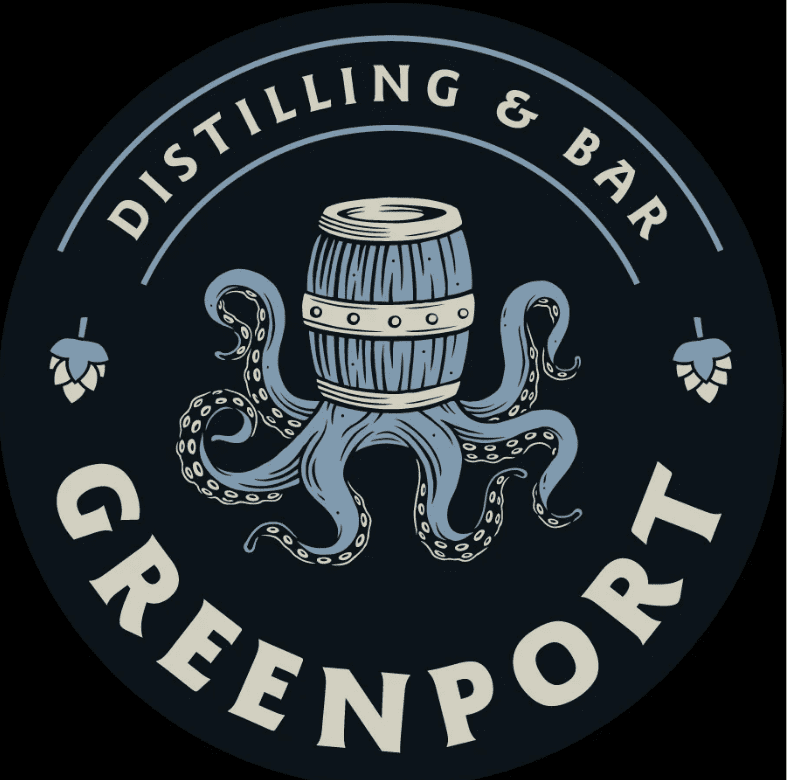 Long Island Spirits
Long Island Spirits, founded in 2007, is the island's first craft distillery since the 1800s, and it is located in Baiting Hollow, New York.
The first distillery to operate on Long Island since the 1800s is Long Island Spirits, which was established in 2007. The distillery is located on the gorgeous North Fork of Long Island in the heart of the well-known wine region, and it is encircled by historic fields of rye, corn, and potatoes. The North Fork is home to more than 60 wineries and dozens of pre-revolutionary family-owned farms, and it has a microclimate in common with the Bordeaux region of France. located in a twin-cupola barn that has been transformed into a contemporary craft distillery. Long Island Spirits are proud of the innovative fermenting, distilling, and blending techniques it has invented, as well as its non-chill filtered spirits and environmentally friendly distillery operations.
Long Island Spirits make LiV Vodka, Rough Rider Bourbon & Rye, Pine Barrens American Single Malt, Deepwells Gin, and Sorbettas. They also have a line of LiV Canned Cocktails. LiV Canned Cocktails are crafted with their LiV Standard Edition Vodka, locally sourced Long Island corn, and one of four flavors: Long Island Cold Brew Tea, Southampton Lemonade, Watermelon Crush, and Last Summer Lime Fizz.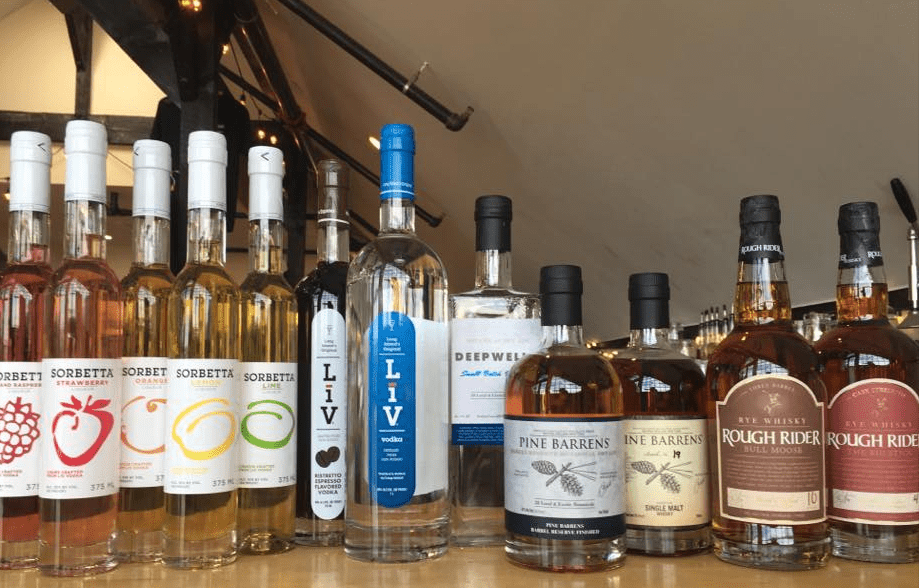 Matchbook Distilling Co.
Matchbook Distilling Co. produces specialized spirits under contract in order to further anthropology, agriculture, tradition, and science. They use the healthiest ingredients, provide the best flavors, and believe that the healthiest foods come from a healthy, live earth. We can draw endless amounts of inspiration from how people have used spices, herbs, fruits, minerals, etc. throughout history as food, medicine, scent, and flavor. Their tasting room is currently open from 3-8 on Saturdays. Check out their site for winter updates.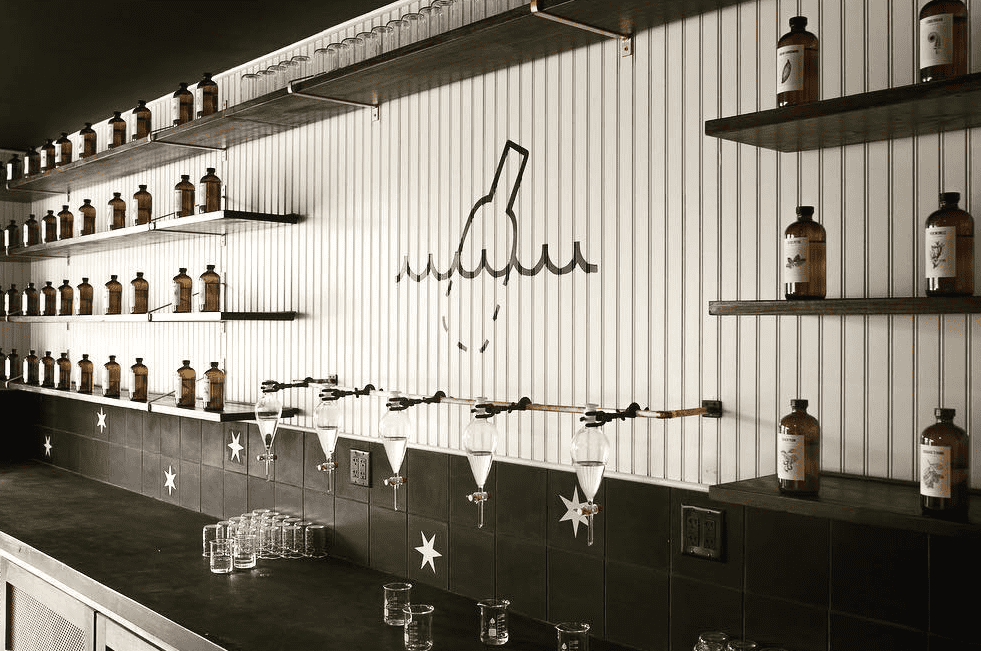 Montauk Distilling Co.
The Montauk Distilling Company was founded in August 2013. There is a distillery on the north fork of Long Island, close to Riverhead, New York. For a distinctive flavor, we hand-make everything, distill it, and package it in limited quantities. Here, our entrepreneurs and creatives follow their passions without considering the possibility of regret. We might not be located elsewhere. Inside Montauk Distilling, you can observe the production of contemporary spirits from seed to sip. Because these spirits don't come to life until they're shared, the experience is made complete by the welcoming atmosphere of our tasting room and event space.
Black Sail Aged Rum, Sunburn Cinnamon Rum, Bellamy Spiced Rum, 71st Regiment Gin, MODICO Vodka, and Tunney Whiskey are all under the Montauk Distilling Co. name.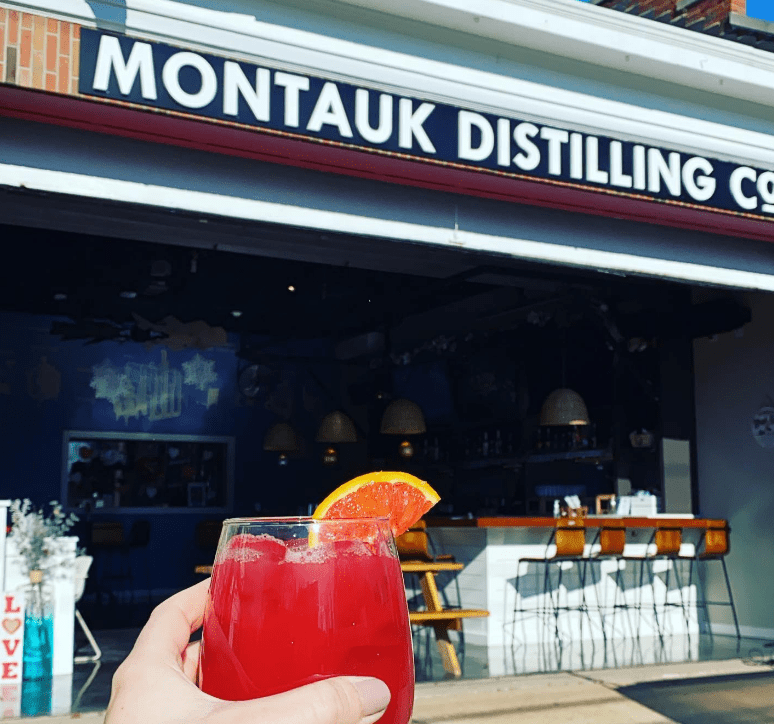 Old Spirit Distillery
Old Spirit Distillery, which is located in the charming town of Oceanside, New York, is the only distillery in Nassau County. The 2017-founded company, Old Spirit, produces vodka, bourbon, brandy, and moonshine. They are kosher and organically certified and source their maize from New York state farmers.
The best organic corn is used to make their flavored Shikor Organic Vodka, which is then infused with a mixture of organic saffron and other spices. Shikor gets its distinctive flavor and color from this specific infusion, which is created using a centuries-old formula.
Their premium Boyar Vodka is distilled to the highest purity allowed while maintaining a unique character and wonderful suppleness. It is made from the best organic corn available from New York's farmers.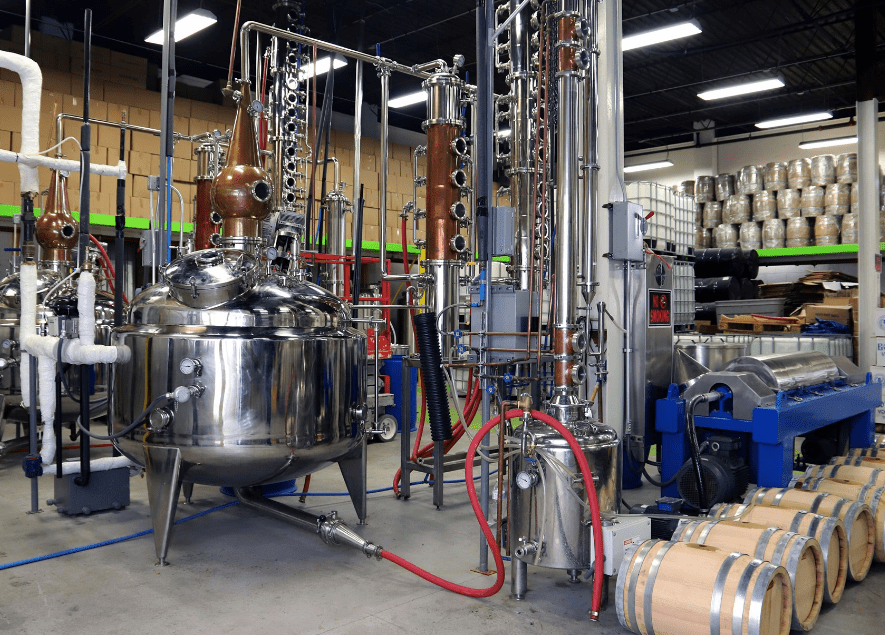 Sagaponack Farm Distillery
Local history can be seen throughout the tasting area of the Sagaponack Farm Distillery, which was built inside a nearly 100-year-old, abandoned dairy barn. Ironically, the top of the bar is constructed from incomplete sections of a giant tree that was cut down in 1984 and was reputed to be a local farmer's favorite place to hide and get drunk. The footrest of the bar was modeled after the antebellum Bridgehampton to Sag Harbor Railroad.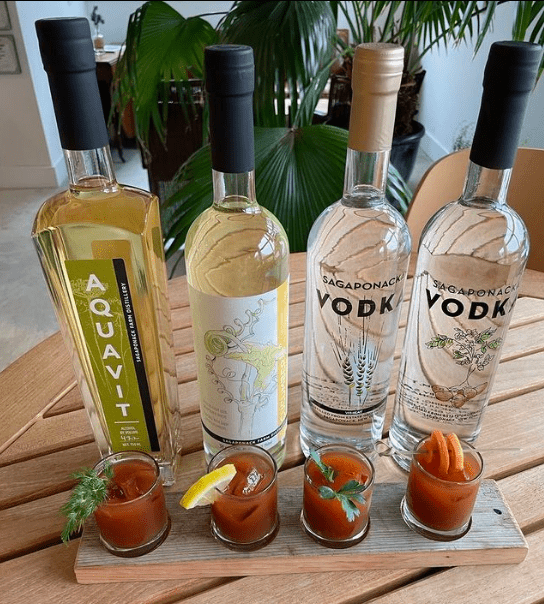 Sagaponack Farm Distillery
The Better Man Distilling Company
The Better Man Distilling Company is the first urban artisan distillery on Long Island. They are at the vanguard of a trend that is still in its infancy. They are in a prime position to promote tourism to Patchogue Village and the island as a whole because we are located in a rapidly growing community on the way to the Hamptons and Fire Island. The distillery's overall ambiance makes them more than just a bar or neighborhood hangout; it makes them a destination for craft spirits and education, to which people will travel great distances.
And Peter Cornillie the Head Distliier is a gin wizard. Check out their award winning Moonstruck Cirus Gin, Elysian Fields Lavender Gin, Red Horizon Apple Forward Gin, and Cosmic Soul Dry Gin.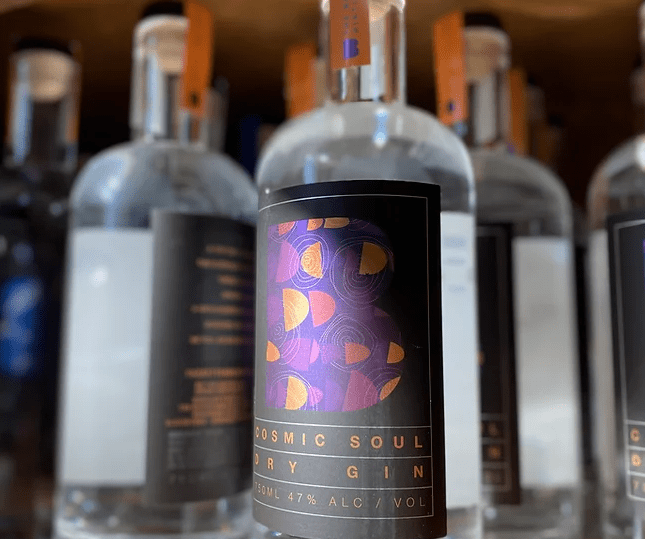 Twin Stills Moonshine
Twin Stills Moonshine whiskey is created using the renowned Long Island New York corn with the ancient Portuguese practice of single-small batch distillation.
They share their family's customary small batch whiskies and flavor-infused Moonshines, and they are happy to serve this great spirit manufactured with ingredients cultivated in New York. Their tasting room is conveniently located off Sound River Ave in Riverhead. You can make it a stop on your way to the North Fork wineries.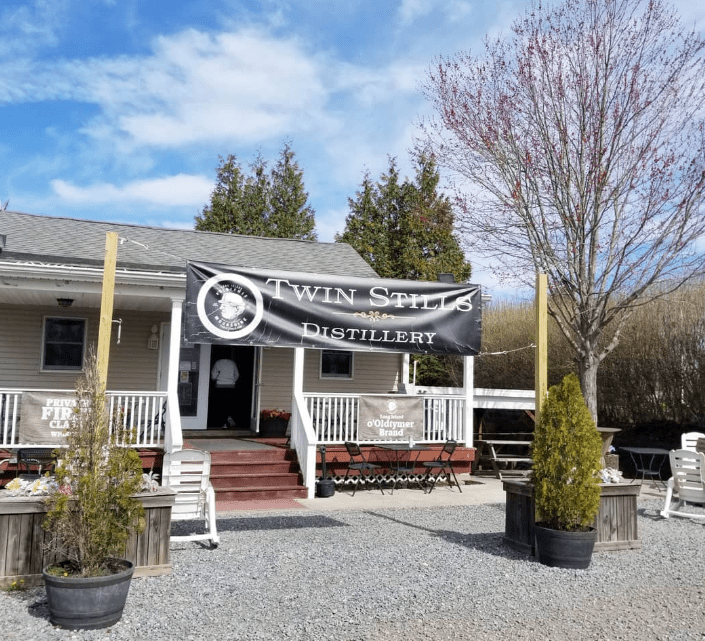 Don't forget to be responsible and have fun enjoying some of Long Island's craft distilleries.
Please tell us if you know of another local spot related to the Long Island craft distillery scene. You can let us know on the forum.