First, an introduction about honey and where it comes from:
Honey is a sweet, viscous food product produced by honey bees and related insects like stingless bees. By regurgitation, enzymatic activity, and water evaporation, bees generate honey from the sugary secretions of plants (floral nectar) or secretions of other insects (honeydew). Honey bees keep their honey in wax structures known as honeycombs, whilst stingless bees keep their honey in wax and resin pots.
Due to its widespread commercial production and human use, honey produced by honey bees (genus Apis) is the most well-known. Beekeeping, or apiculture, is the process of collecting honey from wild bee colonies or hives of domesticated bees (meliponiculture in the case of stingless bees).
Honey's sweetness comes from the monosaccharides fructose and glucose, and it's about as sweet as sucrose (table sugar). Honey offers roughly 190 kilojoules (46 kilocalories) of dietary energy in 15 milliliters (1 US tablespoon). When used as a sweetener, it possesses appealing chemical qualities for baking and a distinct flavor. Honey does not grow most microbes, therefore sealed honey does not spoil, even after thousands of years.
Honey consumption and production have a long and illustrious history as a traditional practice. Humans foraging for honey are depicted in several cave paintings in Spain's Cuevas de la Araa dating back at least 8,000 years. Mayans have been practicing large-scale meliponiculture since pre-Columbian times.
It's possible local honey can be used to treat pollen Allergies and for other medicinal purposes.
Beekeeping
Beekeeping (or apiculture) is the practice of people keeping bee colonies, usually in man-made hives. Honey bees of the genus Apis are the most common, however other honey-producing bees like Melipona stingless bees are also kept. A beekeeper (also known as an apiarist) keeps bees to collect honey and other products produced by the hive (such as beeswax, propolis, flower pollen, bee pollen, and royal jelly), fertilize crops, or create bees for sale to other beekeepers. An apiary, sometimes known as a "bee yard," is a place where bees are kept. If you want to learn more about beekeeping you can join the Long Island Beekeepers Club.
Where to find Long Island honey:
Lenny Bruno Farms
Lenny Bruno Farms located in Wading River has a good selection of honey and a wide selection of fresh produce. They carry Sweet Sophie's Naturals honey. Sweet Sophie's Naturals is a family-owned & operated honey bee apiary located on LI.
Bonac Bees
Bonac Bees is an apiary located in East Hampton. They ship and sell to the Southampton to Montauk areas. Their phone number is (631) 377-1943. They distribute to quite a few locations out east. Visit their website to get a current list of retail locations selling their honey.
Organics Today Farm
Organics Today Farms is a Small Organic Farm in East Islip, Long Island, NY. They get raw honey from their ~300,000 honey bees. It is sold by the Jar/LB.
Kepert's Apiary
Kepert's Apiary is located in Middle Island. Kepert's Apiary is a hobby beekeeping operation run by the Kepert family. They sell honey from the area and candles created by hand. You can even contact them for honey bee eradication.
Buckabee Honey
Buckabee Honey is a Honey farm located in Huntington Station Long Island. They produce their raw honey in its purest form; honey that has not been filtered, strained or heated above 115 degrees Fahrenheit.
Barna Bee Honey
Barna Bee Honey is located in Ronkonkoma NY. Barna Bee colonies are situated strategically around Long Island, New York, where their Barna Bees can freely travel from blossom to flower. Honey from hives in Port Washington, Syosset, Smithtown, Holbrook, and Riverhead is currently available at select retailers.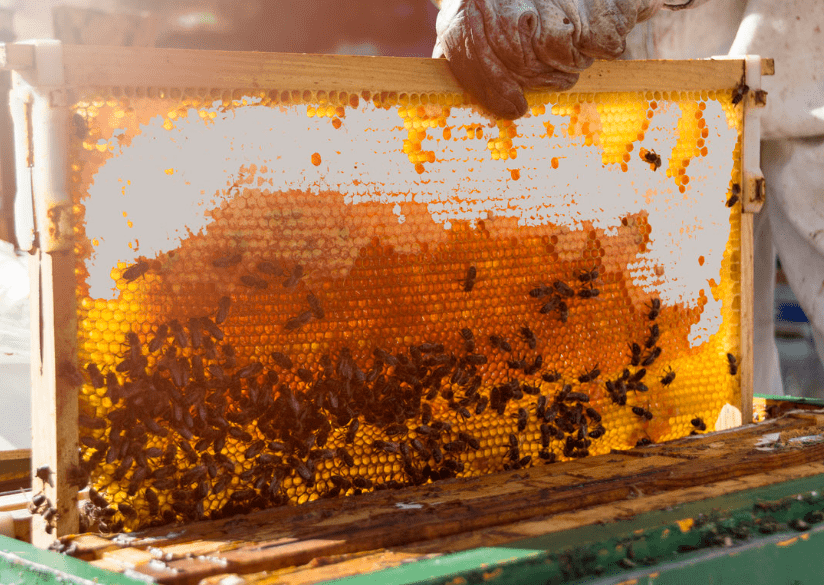 Bees' Needs
Bees' Needs is located in Sag Harbor. Their honey can be found from Montauk to New York City. Bees' Needs products are sold at farm stands and various retail locations. The honey is raw, unheated, and unfiltered. It comes in three varieties exclusively from their bees.
Soft Honey
Soft Honey was founded in 2014 as a result of a love for bees, beekeeping, and honey. Eastern Long Island, New York is where we are located.
Fernando, the beekeeper, and proprietor of Soft Honey have over 25 years of expertise and knowledge in the field of beekeeping.
Soft Honey proudly produces and sells local honey, as well as royal jelly, pollen, beeswax, candles, and soaps. They sell their goods on Etsy.

We hope you enjoy the benefits and flavor of local Long Island Honey. If you want to add something to our honey guide, please contact us.