On Saturday, July 8, a significant milestone was marked on the map of New York's burgeoning cannabis industry, with the grand opening of Strain Stars, Long Island's first adult-use cannabis dispensary. Nestled in the heart of Farmingdale, at 1815 Broadhollow Road, Strain Stars shines a new light on the horizon of legal cannabis, presenting an impressive selection of products and a testament to the strides taken in cannabis legalization and acceptance.
Co-owned and operated by Kamaldeep Singh, Tushar Mallick, Jasmin Kaur, Darminder Sing, and Gurmeet Sing, Strain Stars comes to life after a determined journey of overcoming legal and societal obstacles. The entrepreneurial spirit of Kamaldeep Singh, in particular, shines through in this venture, having previously owned and operated Whitestone Mart Inc, a gas station-retail storefront hybrid in Whitestone, New York. Singh also holds a hemp cannabinoid retail license issued by The Office of Cannabis Management (OCM), a testament to his expertise and commitment in this domain.
As the ribbon-cutting ceremony concluded, the doors of Strain Stars swung open to hundreds of eager customers who had lined up in the scorching sun. The sight was a potent symbol of the evolution of cannabis – from taboo to acceptance, from secrecy to sunshine.
Strain Stars offers an immersive experience, with its 400 cannabis products encapsulated in premium packaging. This is not just a dispensary, but a celebration of how far the recreational weed market has come since New York first legalized adult-use cannabis in March 2021. The eye-catching and professional presentation of the products underscores the shift in societal perceptions towards cannabis, elevating it from an illicit substance to a regulated, respected, and highly sought-after product.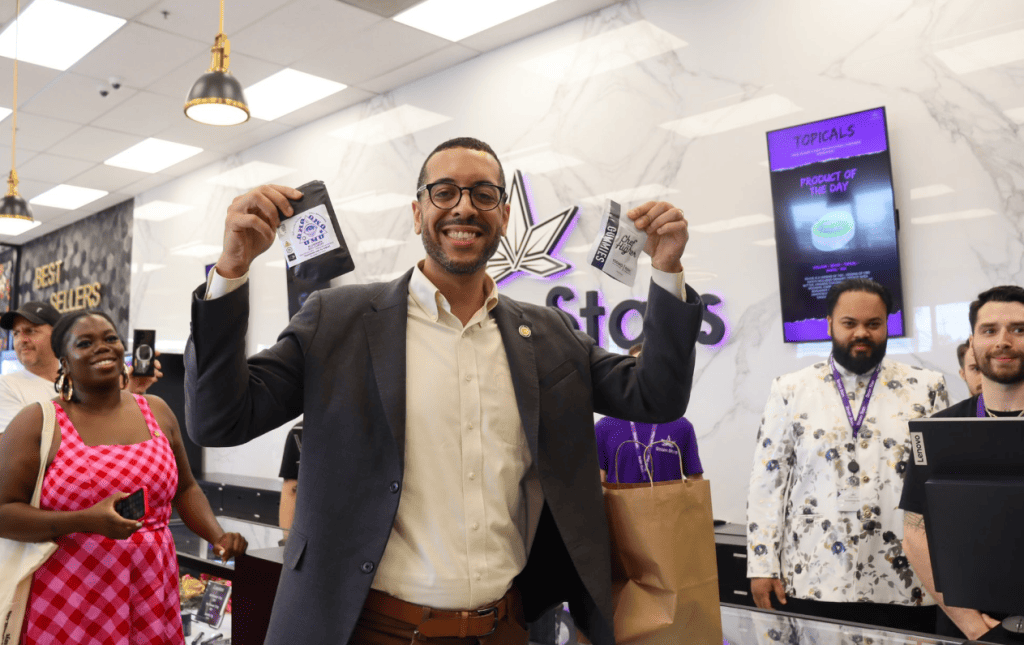 One of the first customers in line, Andy Graubart, serves as a poignant success story for cannabis. "Marijuana saved my life," he said. He emphasized the potential of marijuana when used properly to alleviate symptoms of ADHD, bipolar disorder, anxiety, and depression. His words echoed in the dispensary, highlighting the progress made in understanding the therapeutic potential of cannabis. Nevertheless, it's also important to remember that just like any substance, cannabis use does come with potential risks, including memory loss and psychosis.
As Damian Fagon from the OCM expressed amidst the grand opening: "This place is beautiful." There will indeed be critics, but the crowd at Strain Stars – spanning from baby boomers to Gen Z – seemed more focused on the newfound freedom and advantages that cannabis legalization brings.
Most poignantly, this day marked a personal victory for Kamaldeep Singh, who was arrested three times for possession. Today, he stood proudly as an owner of Strain Stars, saying, "It was a long way, and I'm happy we made it."
Strain Stars is not just the 18th dispensary to open in New York, following the first legal cannabis sale in Manhattan in December 2022; it's a beacon of the cannabis movement on Long Island and a testament to the significant progress made in destigmatizing and legalizing cannabis. The opening of Strain Stars serves as a potent reminder of the evolving views on cannabis, and how far we've come in recognizing its potential benefits and integrating it into society in a controlled, legal manner.
© 2022-2023 by LiVentures. All rights reserved. No part of this document may be reproduced or transmitted in any form or by any means, electronic, mechanical, photocopying, recording, or otherwise, without prior written permission of LiVentures.