Long Island has developed into a craft beer powerhouse. There are more craft breweries than ever on Long Island.  This is excellent news if you are a craft beer lover or love beer in general. We have created this guide to help you find some of the best local craft beer. 
The experts at LongIsland.beer tell us that the craft beer market is booming on Long Island. There are a large number of breweries beer distributors and bottle shops. Some restaurants focus on craft beer.  There are more breweries currently in development hoping to open their doors soon. If you want a more comprehensive view of Long Island craft beer please visit Long Island.beer.
Long Island Breweries
There are currently over 60 breweries on Long Island. The granddaddy of them all is Blue Point brewing located in Patchogue. To me, Long Island beer means local craft beer.  There are clusters of breweries that are creating a unique beer culture. The most populous areas in regards to the number of breweries being in Holbrook and Riverhead. This is due to these areas being more accepting and making it easier for breweries to be established. Some breweries have taprooms and food offerings (NYS due to COVID requires a minimum food purchase). While others may not have a permanent home and are brewing nomadically with the help of other Long Island breweries.
Long Island Beer Tours
Some companies will help your Long Island beer adventure.  The best part is you can enjoy the brews and not have to drive.  A win-win situation for all. It has become easier with the increase in breweries. You can now tour breweries and beer bars in a small geographic area.
Some of the options:
Long Island Brewery Tours
Tapped Enterprises
Brew Crew Cycles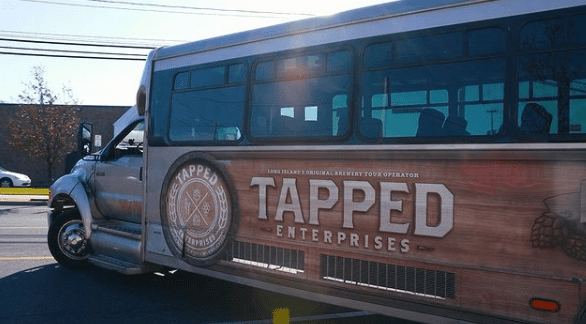 Long Island Beer
The Long Island beer market has changed along with the rest of America's changing palette when it comes to beer. In years past the go-to beers were light lagers such as Budweiser and Miller Lite. But over time people have grown to have an affinity for more hardy craft beer. This normally means the beers that have a more intense flavor and a higher ABV. There are a vast array of beer styles that were not being brewed on a large scale. This left an opening for smaller breweries to hone their craft and be experimental. While these experimental beers and less appreciated styles caught on which led to the boom. Long Island has been caught up in this craft beer revolution for a long time now. This is another benefit to being a Long Islander.
Long Island beer tourism
The great part of having so many local breweries is that you can make a day of visiting the breweries. Some of the brewery clusters make it convenient where you could visit a few breweries in one day. The big clusters at this point are in Holbrook and Riverhead. We will go over more of these areas below. Most of the breweries are accommodating (Some breweries might not have a tasting room or public facilities) and welcome craft lovers some even pet friendly.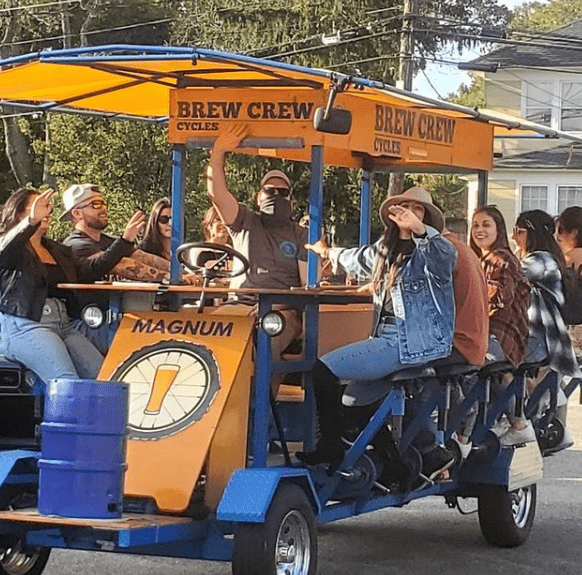 The Joy of Beer Tasting
There are many beer styles to choose from when you go to bury and get a flight for beer tasting. People are generally more familiar with light lager's. More people today want more hops and a higher ABV. That's why they call these people Hop Heads. Some of the more adventurous beer drinkers prefer Belgian beers or strong Russian Imperial Stout's. There are also popular sour beers that are created with the help of bacteria. There are over 100 different beer styles. You could visit a brewery and easily encounter a new beer style or variation each time you visit. The easiest way to go beer tasting is to order a flight of their beers in order to get a sampling of each beer. You can speak to the brewtender and they will help you decide where to start.
Bites, Beer, Bands
Be sure to look and see if your brewery of choice offers a wide food selection or musical entertainment. Most of them have live music on certain nights. One Brewery is Eastern Front in Mattituck. They usually have an open mic night on Tuesday. Also, Greenport Brewing and Bluepoint Brewery have full kitchens with chefs. You just have to decide how much beer vs food you want to help make your selection. The music can be a bonus. We will link to each brewery with their social account to help you see what's brewing.
Here's a quick list of the breweries Alphabetically (you can also sort by town):
| Brewery Name | Town | Notes |
| --- | --- | --- |
| 1940's Brewing Company | Holbrook | |
| 27A Brewing Company | Lindenhurst | |
| AeroBrew Beer Company | Ronkonkoma | In development |
| Amity Ales Brewpub | Amityville | |
| Barnshed Brewing | Hicksville | |
| Barrier Brewing Co. | Oceanside | |
| Bellmore Brewing Company | Bellmore | |
| Bellport Brewing | Bellport | |
| Black Forest Brew Haus | Farmingdale | |
| Blind Bat Brewery | Centerport | |
| Blue Point Brewing Company | Patchogue | |
| BrewSA | Freeport | |
| BrickHouse Brewery | Patchogue | |
| Bright Eye Beer Company | Long Beach | |
| Darling Brewing | Patchogue | Closed - Used to be Patchogue Beer Project |
| Destination Unknown Beer Company (DUBCO) | Bay Shore | |
| Eastern Front Brewing Company | Mattituck | |
| Flying Belgian Brewery | Oceanside | |
| Garden of Eve Farm Brewery | Riverhead | |
| Garvies Point Craft Brewery | Glen Cove | |
| Ghost Brewing Company | Bay Shore | |
| Great South Bay Brewery | Bay Shore | |
| Greenport Harbor Brewing Company - OG | Greenport | |
| Greenport Harbor Brewing Company - Peconic | Peconic | |
| Harbor Head Brewing Company | Northport | |
| Hopwin's Brewery | Bay Shore | Closed |
| Jamesport Farm Brewery | Jamesport | |
| Kings Park Brewing Company | Kings Park | |
| Lithology Brewing Company | Farmingdale | |
| Lloyd Harbor Brewing Company | Lloyd Harbor | |
| Long Beach Brewing Company | Long Beach | |
| Long Ireland Beer Company | Riverhead | |
| Long Island Farm Brewery | Manorville | |
| Montauk Brewing Company | Montauk | |
| Moriches Field Brewing Company | Center Moriches | |
| Motion Craft Brewing | Massapequa Park | |
| Moustache Brewing Company | Riverhead | übergeek Brewing Company is taking over their location |
| Noble Savage Brewing Company | Glen Cove | |
| North Fork Brewing Company | Riverhead | |
| Old Tappan Brew Company | Bayville | |
| Oyster Bay Brewing Company | Oyster Bay | |
| Peconic County Brewing | Riverhead | |
| Po' Boy Brewery | Port Jefferson | |
| Port Jefferson Brewing Company | Port Jefferson | |
| Root+Branch Brewing | Copiague | |
| Saint James Brewery | Holbrook | |
| Sand City Brewing Company | Northport | |
| Sand City Brewing Company Lindenhurst | Lindenhurst | |
| Sand City Brewing Company OG | Northport | |
| Secatogue Brewing Company | West Islip | |
| Shelter Island Craft Brewery | Shelter Island | |
| Six Harbors Brewing Company | Huntington | |
| Small Craft Brewing Company | Amityville | |
| South Shore Craft Brewery | Oceanside | |
| Southampton Publick House | Southampton | |
| Spider Bite Beer Company | Holbrook | |
| SquareHead Brewing | Holbrook | |
| Take Two Brewery | Bay Shore | In development |
| The Brewer's Collective | Bay Shore | |
| Tradewinds Brewing Company | Riverhead | Used to be Crooked Ladder |
| Twin Fork Brewery | Riverhead | |
| übergeek Brewing Company | Riverhead | |
| WA Meadwerks | Lindenhurst | Makes Mead |
| Westhampton Beach Brewing Company | Westhampton | |