Understanding Long Island Alternative Medicine
Long Island Alternative Medicine has become a buzzword for many seeking a holistic approach to healing and wellness. Nestled on the eastern shores of New York, Long Island has seen a growing trend in the integration of various traditional, holistic, and alternative therapies. These therapies offer individuals a different path, one that is often more attuned to the whole person rather than just treating symptoms.
A Look at the Various Types of Alternative Medicine
In Long Island, you will find an array of options when it comes to alternative medicine. From acupuncture to chiropractic care, Long Island offers a multitude of holistic treatments.
Acupuncture
This ancient Chinese practice has gained traction in Long Island's Alternative Medicine community. By inserting fine needles into specific points on the body, acupuncture seeks to restore balance and promote natural healing.
Chiropractic Care
Chiropractic care focuses on the alignment of the spine and musculoskeletal system. In Long Island, chiropractors offer a drug-free approach to managing pain and enhancing overall wellness.
You're in trusted hands with Dr. Joseph Merckling, a chiropractor dedicated to preventative health care through specialized techniques. For over 15 years, his family-oriented practice in the charming Village of Bellport has been a pillar of the community, with Dr. Merckling supervising since 2005. As you enter Merckling Family Chiropractic, you'll notice the clean, modern waiting room. Dr. Merckling's approach is all-encompassing, focusing on the long-term well-being of his patients. Expect a thorough examination using state-of-the-art tools such as digital X-rays, MRI/CT scans, and blood work to ensure the best possible care tailored to your condition. At Merckling Family Chiropractic, your individual needs are paramount, and they strive to provide personalized care every step of the way.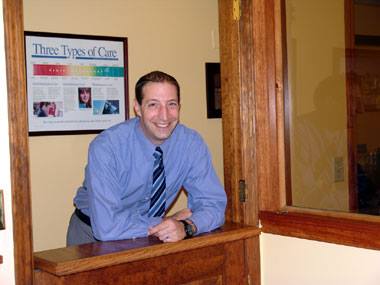 The Rise of Herbal Medicine
Herbal medicine, another integral part of Long Island Alternative Medicine, draws from the wisdom of ancient traditions. Long Island boasts several herbalists who use plants, roots, and natural substances to create healing remedies.
For example, a local herbalist in Suffolk County might prescribe a tea made from native Long Island plants to alleviate symptoms of anxiety or digestive issues.
Yoga and Mindfulness
Yoga and mindfulness practices are also gaining popularity within the Long Island Alternative Medicine scene. These practices aim to connect the mind and body through controlled breathing and physical postures.
One unique aspect of Long Island is the natural setting, with its beautiful beaches and serene landscapes. It's not uncommon to find yoga classes being held on the beach during the summer months, offering participants a chance to truly connect with nature.
Integrative Approach to Health and Wellness
The beauty of Long Island Alternative Medicine is in its integrative approach. Clinics and practitioners often combine various treatments to offer a comprehensive health plan tailored to an individual's needs. Whether you are dealing with chronic pain or seeking preventive care, Long Island's Alternative Medicine community provides a space for healing and growth.
One of the best healthcare centers in Sullfolk County is the Healthcare Wellness Center in Bay Shore NY. The founder Anthony Cerabino, Senior Acupuncturist, is eager to share his passion for holistic healing with you. Anthony is among the industry's top healers, with a wealth of knowledge and expertise in acupuncture and traditional Chinese medicine. He has traveled the world, incorporating the latest techniques into his practice. He's not just committed to your well-being; he's dedicated to staying at the forefront of his field. The rest of their skilled staff follows the same principles.
Exploring Therapeutic Massage in Long Island
Long Island Alternative Medicine isn't confined to herbs and needles; therapeutic massage has become a cornerstone in this health and wellness movement. Long Island boasts numerous massage therapists who specialize in different techniques, ranging from Swedish to Deep Tissue massages. The goal is to relax muscles, reduce stress, and enhance overall well-being.
For instance, in Nassau County, there's a spa that integrates aromatherapy with massage. This synergy of essential oils and touch offers a unique healing experience.
Naturopathy in Long Island
Naturopathy has its roots in using nature to heal. It focuses on understanding the body's inherent ability to restore and maintain itself. Long Island's naturopathic doctors work with patients to understand their lifestyle, diet, and habits, creating a personalized plan that promotes natural healing.
Homeopathy and Its Rise
Homeopathy is a part of Long Island Alternative Medicine that can't be ignored. This practice involves using highly diluted substances to trigger the body's natural system of healing. Though debated in some medical circles, it has found its place on Long Island with dedicated practitioners and satisfied patients.
Long Island Alternative Medicine and Chronic Conditions
Long Island Alternative Medicine is becoming increasingly sought after for managing chronic conditions. People with long-term ailments like arthritis, fibromyalgia, or chronic fatigue syndrome often find solace in these holistic therapies.
A story that resonates with many is of a Long Island resident finding relief from chronic pain through a combination of acupuncture and herbal treatments. This integrative approach provided the healing touch that conventional medicine had failed to offer.
Community Engagement and Education
Community engagement plays a vital role in spreading awareness of Long Island Alternative Medicine. Many practitioners offer workshops, talks, and open houses to educate the public. Long Island libraries, community centers, and even farmers' markets can become venues for these enlightening interactions.
Environmental Concerns and Sustainable Practices
The Long Island Alternative Medicine community is often deeply conscious of environmental sustainability. From using locally sourced herbs to employing eco-friendly practices within their clinics, practitioners are keenly aware of their impact on the planet.
In conclusion, Long Island Alternative Medicine embodies a rich tapestry of healing traditions and practices. It's more than a trend; it's a burgeoning community that seeks to integrate mind, body, and spirit into a harmonious whole.
© 2022-2023 by LiVentures. All rights reserved. No part of this document may be reproduced or transmitted in any form or by any means, electronic, mechanical, photocopying, recording, or otherwise, without prior written permission of LiVentures.